100% Perlite
PERLITE

Commercial Landscaping
PLANT GUIDE
The Schundler Company
10 Central Street
Nahant, MA 01908
732-287-2244 www.schundler.com
---
USING 100% FINE PERLITE IN ISRAEL
IN COMMERICAL LANDSCAPING
UNDER SOD AND IN PLANTERS AND CONTAINERS
---
By Bruce Schundler
In a land where battles have been fought over water rights, and where survival often depends on water, 100% fine perlite is being used more and more in large commercial landscaping projects. As a result, trees, plants, and sod are growing with less water and fertilizer in areas traditionally surrounded by deserts!
The following pictures were taken during the construction of the new Golden Tulip Hotel on the Dead Sea. Instead of using perlite as just a soil amendment for soils or peat mixes, just 100% fine grade perlite was used to fill the planting "holes" for large, very tall palm trees, as a growing substrate for under sod, and for all the decorative plantings.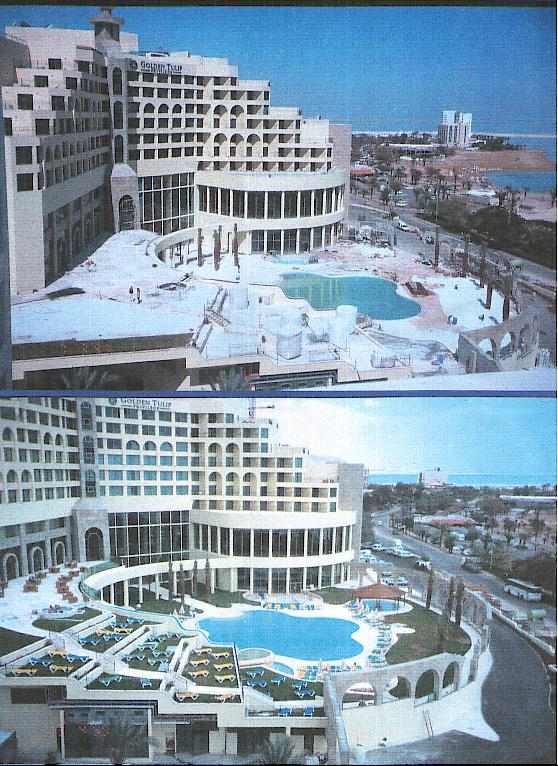 In the top picture, note how perlite is being placed throughout the project!
At a new shopping mall in Tel Aviv, perlite was used under turf and sod, in containers, and for trees. Property owners and managers of large resorts, hotels, and commercial sites in Israel have found 100% fine perlite designs use less water and fertilizer, and suffer less damage due to the severe weather conditions.
On top of the parking garage, irrigation pipes were laid on top of the concrete, and then fine perlite was put down approximately 6 inches thick and leveled. Finally, sod was placed on top. The use of carefully placed irrigation lines, 100% fine perlite, and nutrient solutions of water have proven to be a very successful combination for maintaining attractive landscaping in the harsh environment of Israel.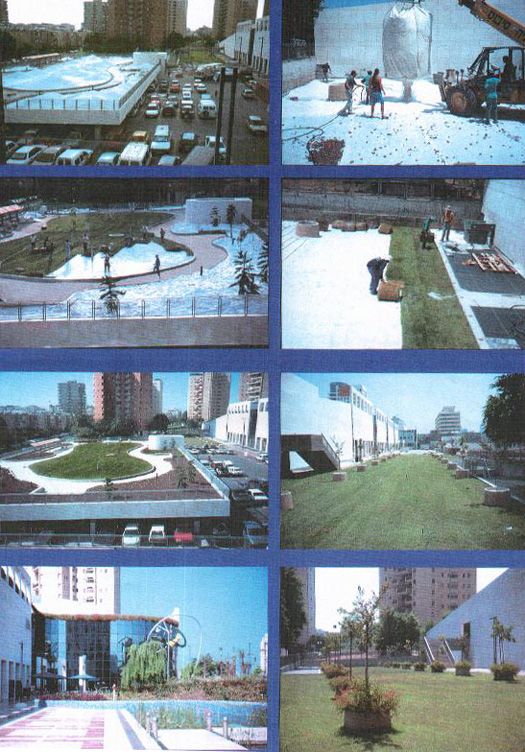 Perlite being used throughout a new shopping mall project---
under sod, in planters, and under trees!
These new 100% perlite designs have continued to be successful. And they are being recommended and used by commerical landscaping companies, landscape architects, and property owners. Currently a new Hilton Hotel is being built in Eilat which will use over 5000 cubic meters of perlite for its landscaping!
---
Coarse grades of perlite have been used for years for many peat mixes, the use of 100% perlite has been investigated for several years now. Essentially, perlite offers many advantages: it is lightweight, it can absorb and provide a large amount of both air and water, it is sterile and has a neutral pH, and it can be very tolerate of subtle changes in soil conditions. For these reasons, its use in hydroponic growing bags has been growing steadily throughout the world. And in many of these hydroponic systems, finer grades began to be used more and more since the finer grades of perlite can provide more than enough air for plants, and also retain substantial amounts of water. With this in mind, many have turned to using finer grades of perlite in both regular container (pot) production, and in landscaping.
Several years ago, representatives of Agrakal and Habonim Industries in Israel began working with landscape and landscaping companies to convince them of the advantages of using 100% fine perlite in large commercial outdoor containers. And today, one of the more popular and successful systems is being used in very large pots and planters in malls, hotels, resorts, convention centers, roof top gardens, and private commercial landscaping. (For more information on how these containers are designed, see Using 100% Perlite in Israel for Planters and Containers
These 100% fine perlite systems have resulted in plants which are growing better, with less water, and with far less maintenance.

What has surprised many is how the perlite can hold up even large, tall palm trees.
---
For more information about these uses of perlite in turf grass applications, landscaping, and/or container growing, please call or contact us at:

The Schundler Company
10 Central Street
Nahant, MA 01908
(ph)732-287-2244 (fax) 732-287-4185
www.schundler.com
email: info@schundler.com
Back to Horticultural Main Page