Web Sites
PERLITE

Outdoor Gardening
Landscaping
PLANT GUIDE
The Schundler Company
10 Central Street
Nahant, MA 01908
732-287-2244 www.schundler.com
---
USEFUL LINKS TO HELPFUL SITES ABOUT
OUTDOOR GARDENING AND LANDSCAPING
---

From time to time, we come across particularly useful or interesting sites which may be of interest to anyone interested in outdoor gardening and landscaping, soil amendments, outdoor container growing, artificial mixes, etc. By listing them here, we do not endorse or support these sites or organizations. We only want to share some basic information about basic uses of perlite and vermiculite in landscaping and outdoor gardening, and share a little of what is going on throughout the world.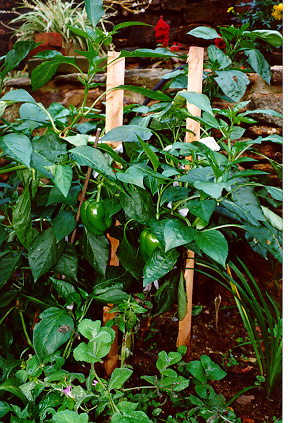 Peppers grown in a raised garden with over 2 inches of fine grade perlite tilled into the soil.
We are just begining to build this site.
If you have any suggestions or recommendations, please let us know!

For more information or to make suggestions, contact:
email: info@schundler.com
or
The Schundler Company
10 Central Street
Nahant, MA 01908
(ph)732-287-2244 (fax) 732-287-4185
www.schundler.com
Back to Horticultural Main Page