THE SCHUNDLER COMPANY
SWIMMING POOL CONSTRUCTION WITH VERMICULITE
---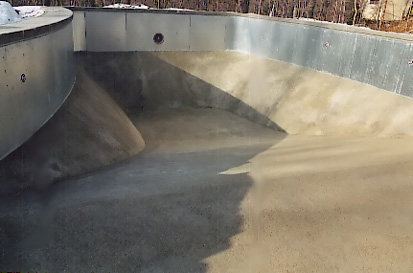 A typical vermiculite pool bottom
just before the liner is installed.

For over thirty years, vermiculite has been used in the construction of vinyl liner swimming pools. Essentially after the walls of the pools are positioned, vermiculite is mixed with Portland cement and then trowelled on the "bottom" of the pool in both the shallow and deep sections. These vermiculite pool bases or pool bottoms offer a number of advantages, which protect you and your pool. Read about these advantages and how to install a vermiculite pool bottom in the following pages:






ADVANTAGES OF VERMICULITE POOL BOTTOMS:


CONSTRUCTION NOTES:




The Schundler Company manufactures vermiculite products like Schundler V+16 Pool Base, Ultra Mix and Ultra Mix II. These products normally are sold to distributors and dealers from whom you can purchase. If you have any difficulties locating our products (we do not have distribution throughout the country), try to find a source of vermiculite or perlite at Vermiculite.Com. If you still have problems, contact us and we will try to help you locate a local source of Schundler V+16 Pool Base or Ultra Mix.


If you have never owned or purchased a pool before, you might want to visit a number of dealers, talk with friends and neighbors who have pools, and study what you want and don't want carefully.



A listing of distributors throughout the country can be found at The Pool and Spa News Online Directory




Homeowners and Consumers--Please Read This!
Often we are called by homeowners questioning what their contractor is doing. Not being on site or knowing local conditions throughout the country, there is very little we can do or suggest to "second-guess" what competent, professional contractors are doing. Hopefully, you will recognize that our web pages and our instructions are recommendations, but local job site conditions often require modifications or adjustments, and your contractor probably knows more about the best way to install your pool than we ever could.
Often we are called by "do-it-yourselfers" who want to either purchase vermiculite from us, or find local sources. Unfortunately, we don't sell direct, and most of our sales are through distributors who then sell to local contractors and dealers. As a result, we really don't know where our products or similar products are available. Try calling your local vinyl liner pool dealers, or try calling distributors of pool products in your area.
To the brave homeowner trying to install their own inground pool, we normally recommend mixing the "old fashion way"---namely, mix water with portland cement, and then add just regular vermiculite as described in these web pages. The premixes may seem better, but for the "uninitiated" and first-time pool installer, the premixes can be more difficult to work with and more prone to problems than mixing water and portland cement, and then adding the vermiculite to it.
GOOD LUCK and ENJOY YOUR POOL!!
---



USING PERLITE IN "DE" FILTERS
WATER FILTRATION WITH PERLITE
Schundler Aqua-Clean

Fine ground perlite has been used as a filter media in many industries for many years (see Perlite Filter Aids for Liquid/Solid Separation.

It is now beginning to be used more and more in what have been called "DE Filters" in the swimming pool industry. Essentially perlite provides a safe, non-toxic, non-hazardous filtration media that can be used in most systems.

So-called "DE Filters" or pre-coat filters, have been used in the swimming pool industry since the 1960's. These filters offer the cleanest water of the three usual ways to filter pool water: using DE or perlite, cartridges, or sand. To compare these three types of filtering alternatives, most industry professionals consider the following pros and cons:
DE and PERLITE
CARTRIDGE
SAND
Size of particles
filtered
2-5 microns
10-25 microns
20-40 microns
Filter Rate
1-3 gallons per min/sq.ft.
0.375-1 gallon per min/ sq.ft.
15-25 gallons per min/sq.ft.
The Schundler Company introduced Schundler Aqua-Clean in response to the many people who are looking for alternatives to traditional DE, and who have not been happy with some of the current so-called "DE substitutes." To read more about Schundler Aqua-Clean, please see our page Schundler Aqua-Clean, or contact your local pool dealer or distributor.

You also might want to look at PERLITE FILTER MEDIA: Compared to DE And Its Use in Swimming Pool Filters ---a reprint from Pool and Spa News (October 22, 1997.
If you cannot get information, please contact us or simply try an experiment using as much perlite by volume as you would DE.
---
For more information about these and many other uses of perlite and vermiculite,
please call or contact us at:
The Schundler Company --- 10 Central Street, Nahant, MA 01908
(ph)732-287-2244 (fax) 732-287-4185
www.schundler.com
email: info@schundler.com
Back to
MAIN