THE SCHUNDLER COMPANY
---
Origins and Characteristics....
Perlite is not a trade name but a generic term for a naturally occurring volcanic glass. Formed from rhyolitic volcanic flows, it is a siliceous rock, it is similar chemically to obsidian, and it has enough entrapped moisture in it to "expand" when heated.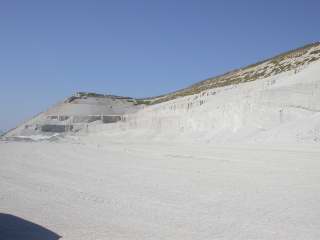 Milos Perlite Mine
The distinguishing feature that sets perlite apart from other volcanic glasses is this ability to be "processed or expanded." When heated to a suitable point in its softening range, it expands from four to twenty times its original volume.

This expansion is due to the presence of two to six percent combined water in the crude perlite rock. Then quickly heated to above 1600 degrees F (871 degrees C), the crude rock pops in a manner similar to popcorn as the combined water vaporizes and creates countless tiny bubbles that account for the amazing light weight and other exceptional physical properties of expanded perlite.

---

Three stages of perlite production shown above illustrate the great increase in volume after funacing.
The same weight of perlite, 1 oz. (28 gm.), is shown as crude perlite, crushed crude perlite, and expanded perlite.
---
The expansion process also creates one of perlite's most distinguishing characteristics: its white color. While the crude rock may range from transparent light gray to glossy black, the color of expanded perlite ranges from snowy white to grayish white.

Expanded perlite can be manufactured to weigh as little as 2 pounds per cubic foot (32 kg/m3) making it adaptable for numerous applications.

Since perlite is a form of natural glass, it is classified as chemically inert and has a pH of approximately 7.

TYPICAL ELEMENTIAL ANALYSIS
Silicon
Aluminum
Potassium
Sodium
Iron
Calcium
Magnesium
Trace
Oxygen (by difference)
Net Total
Bound Water
Total


33.8
7.2
3.5
3.4
0.6
0.6
0.2
0.2
47.5
97.0
3.0
100.00

TYPICAL PHYSICAL PROPERTIES
Color
Refractive Index
Free Moisture, Maximum
pH (of water slurry)
Specific Gravity
Bulk Density (normal)
Mesh Sizes (normal)
Softening Point
Fusion Point
Specific Heat
Thermal Conductivity


White
1.5
0.5%
6.5-8.0
2.2-2.4
2-15 lb/ft3
4-40 and finer mesh
1600-2000F
2300-2450F
0.2BTU/lb F
.27-.41 BTU.in/h.ft2.F

THERMAL RESISTANCE VALUES
Thermal "R" Values for 1 in (0.0254m) Thickness
Density
Mean Temperature, F 0 (C 0)
40 (4)
75 (24)
105 (41)
2.0-4.1 (32.0-65.6)
4.3-3.9 (0.78-0.69)
3.7-3.3 (0.65-0.58)
3.7-3.2 (0.65-0.56)
4.1-7.4 (65.6-118.4)
3.9-3.3 (0.69-0.58)
3.3-2.8 (0.58-0.49)
3.2-2.7 (0.56-0.47)
7.4-11.0 (118.4-176.0)
3.3-2.9 (0.58-0.51)
2.8-2.4 (0.49-0.42)
2.7-2.4 (0.47-0.42)
---
For more information about perlite, you might want to look at:

Back to
Main