CHARCOAL GRILLS
SCHUNDLER

INSULATES
IMPROVES FIRE
REDUCES FLARE-UPS
PRODUCT GUIDE
The Schundler Company
150 Whitman Avenue
Edison, New Jersey 08817
732-287-2244 www.schundler.com
---
CHARCOAL GRILLING WITH
PERLITE AND/OR VERMICULITE BASES

---
What is Perlite and/or Vermiculite?
Perlite and vermiculite are not trade names but the generic names for two naturally occurring rocks. The distinguishing feature which sets both apart from other rocks or minerals is that when heated to a suitable high temperature, they both expand.
For many years perlite and vermiculite have been used in many applications ranging from lightweight aggregates for concrete and plaster, to lightweight amendments for soils and soilless mixes. They also have been used in simple, backyard applications like BBQ grilling on charcoal grills!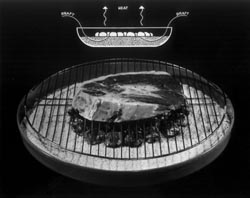 Charbase in Use
---
Early in the 1960's when backyard grilling with charcoal was very popular, perlite and vermiculite began to be used as a Charcoal Base.
Essentially, perlite and/or vermiculite would be poured into the grill (approximately half way between the bottom of the grill pan and the grill), and then lighter fluid would be poured in the center of the area where the charcoals would be placed Then the charcoals were placed on the perlite or vermiculite and the fire was lit. Less charcoal could be used since the perlite and/or vermicuilte provided the "draft" normally developed with a "pile" of charcoal.
If lighter fluid was not being used, then the electric starter or other devices could be placed on the perlite or vermiculite, and the coals placed on top.
The Charbase (sometimes called CharBase or Charcoal Base) kept the metal pan from getting hot, reduced flare-up, and made cleaning up much easier. It also reduced the amount of charcoal that was used.
As John K. Hart, Jr. has written:
"For years I've been using vermiculite as a barbeque fire base in my charcoal/wood burning grills & hog roasters.
The units are nothing but big steel boxes and the insulative property of vermiculite prevents heat warpage while allowing more air to the fuel ---aiding in an even burn with minimal tending.
I remember my dad buying a new grill in the late '50s that was accompanied by a small bag of vermiculite w/directions for the use I've described.
People love my BBQ!"
---
---
For more information about these uses of perlite and vermiculite, please call or contact us at:

The Schundler Company
150 Whitman Avenue
Edison, New Jersey 08817
(ph)732-287-2244 (fax) 732-287-4185
www.schundler.com
email: info@schundler.com
Back to
Unusual and Unique Uses