PERLITE CONCRETE
BLOCKS
SCHUNDLER

INSULATING
LNG TANKS
PRODUCT GUIDE
The Schundler Company
10 Central Street
Nahant, MA 01908
732-287-2244 www.schundler.com
---
Insulating Perlite Concrete Blocks for Use Under LNG Tanks

---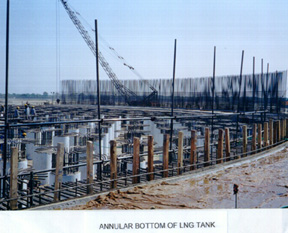 A Typical LNG Storage Tank Under Construction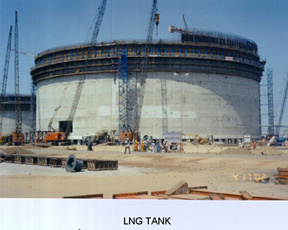 A Typical LNG Storage Tank Under Construction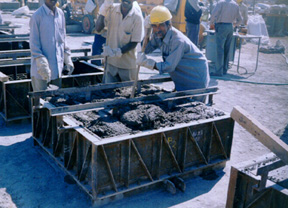 Perlite concrete being poured into molds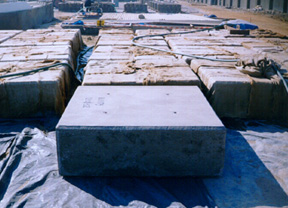 Perlite Concrete Blocks Curing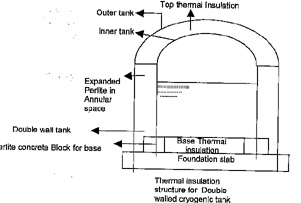 Basic Outline of Construction Details

For many years perlite has played a significant role in insulating large cryogenic tanks:
Perlite loose fill has been used to insulate the annular spaces in these tanks, and
Perlite concrete blocks have been used for the base insulation of large double wall cryogenic tanks.
Perlite concrete blocks have been used to insulate the base of double wall cryogenic tanks to insulate between the ground and the bottom of the tank itself. These blocks are being used because of their good load bearing strength, excellent thermal properties and resistance to seismic forces.
In India, Keltech Energies Ltd., a leading manufacturer of expanded perlite has been involved in the manufacture & installation of large perlite concrete blocks for LNG Tanks. The perlite concrete blocks form a ring beam beneath the inner tank's bottom plate of a double walled LNG storage tank.
The lightweight insulating concrete blocks are manufactured from a mix of lightweight perlite aggregate, ordinary Portland cement, and special admixtures; and they are reinforced with special steel bars. The perlite blocks can be manufactured at the factory or at the project site. They are manufactured under stringent quality standards for achieving strength, thermal properties and dimensional tolerances. The blocks then are installed on a leveling perlite concrete layer that is placed or poured above the bottom plate.
Eventually cryogenic perlite is placed in the large interstitial space between the outer and inner tank (the annular space).
A prestressed concrete sidewall is constructed to protect th outer shell of the LNG Tank from fire, floods, and hostile attacks and also serves to contain the LNG in the event of a tank failure.
---
For more information, contact KEL (Keltech Energies Ltd) at: .

Keltech Energies Ltd.*
'Chowgule House' 3rd Floor
18 Crescent Road
Bangalore--560 001
INDIA
email: santoshchowgule@vsnl.com
---
The Schundler Company can provide perlite for cryogenic applications but does not do any installation work. For help in installing perlite cryogenic perlite or in cryogenic projects, contact:
Keltech Energies Ltd, an ISO 9002 company, has the expertise to undertake turnkey thermal insulation jobs including the manufacture and installation of Perlite Concrete Blocks and the annular filling of large capacity LNG and other cryogenic tanks with expanded perlite using site operated portable expanders anywhere in the world. To know more them read Keltech Energies Ltd
or contact them at:

Keltech Energies Ltd.*
'Chowgule House' 3rd Floor
18 Crescent Road
Bangalore--560 001
INDIA
email: santoshchowgule@vsnl.com




W.H.Waugh Consultants in Nashville, Tennessee has worked with cryogenic projects for years--providing both perlite and technical consulting: email: whitneywaugh@aol.com
---
If you need any more information or think we can help in any way, please call us or contact us at:
The Schundler Company

10 Central Street
Nahant, MA 01908
732-287-2244 or www.schundler.com
email: info@schundler.com
Back to Industrial Products Main Page