MUSEUM
EXHIBITIONS
SCHUNDLER

LIGHTWIEGHT
FIRE-PROOF
VERMICULITE
PRODUCT GUIDE
The Schundler Company
150 Whitman Avenue
Edison, New Jersey 08817
732-287-2244 www.schundler.com
---
USING VERMICULITE IN MUSEAM EXHIBITIONS

written by Bruce Schundler
---
We often are surprised at the many unusual, unique, and unexpected uses of perlite and vermiculite. And fortunately, we are hearing more and more every day.
Recently, Didier Coudry, the Technical Coordinator of the Exposition "Dinosaures" Créamonde S.A. in Strasbourg, France wrote us about still another use of vermiculite. The museum was looking for a lightweight, easy-to-use, and totally fire-proof product to use for imitation "dirt" under a dinosaur expositon. And here is what they did: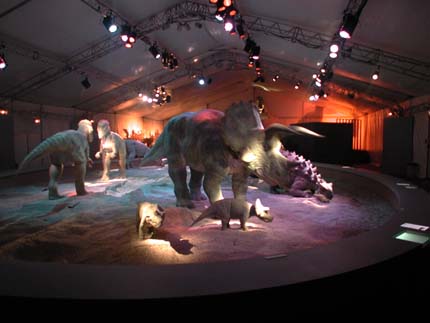 Vermiculite: The Ground on which Dinosaurs Walk
As Didier Coudry wrote, "After a long time reflecting on what to use to fill the area around the "animals", we decided to use vermiculite for its stability, its weight, its "look" and, last but not least, its fireproof guarantee. Moreover, we were happy to learn that vermiculite, despite its "synthetic look", is "paleontologic" in age." (We edited Didier's English a little.)
We've also heard of vermiculite being used in museaums for background material, under stages for sound-proofing (once the Gugenheim Museum used truckloads of vermiculite under staging for a sound-light exhibition), under floors of the San Francisco Ballet for fire-proofing and accoustical insulation, and for simulated "falling objects" like snow.
If you know of another unusual, unique, and unexpected use, let us know!
If you want more information about this article or the use of vermiculite in this unusual way, contact us.
And if you need any more information or think we can help in any way, please call us or contact us at:
The Schundler Company

150 Whitman Avenue
Edison, New Jersey 08817
732-287-2244 or www.schundler.com
Back to Unusual, Unique, and Unexpected Uses of Perlite and Vermiculite Page