HORSE CORRALS
HORSE STALLS
SCHUNDLER

REDUCING COMPACTION
IMPROVING DRAINAGE
PRODUCT GUIDE
The Schundler Company
150 Whitman Avenue
Edison, New Jersey 08817
732-287-2244 www.schundler.com
---
"DROP OUT" PERLITE and REGULAR PERLITE
FOR HORSE CORRALS AND STALLS

---
By Bruce Schundler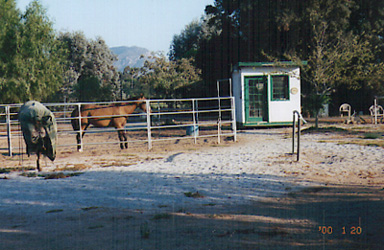 For many years, we have heard about people using both "drop-out" perlite and regular perlite in horse stalls and corrals.
"Drop-out" perlite is perlite which didn't have enough moisture in it during processing to expand properly ---and so it didn't expand, or it didn't expand enough. As a result, these heavier, large perlite particles "drop-out" of our furnaces. Regular perlite also has been used by people who want something to soak up more moisture, or provide more drainage in both corrals and stalls.
After many years of hearing about this unusual use of perlite, we finally got some pictures of this "unusual and unexpected" use. Apparently, the perlite is simply spread on the ground "as is" providing less compaction and more drainage.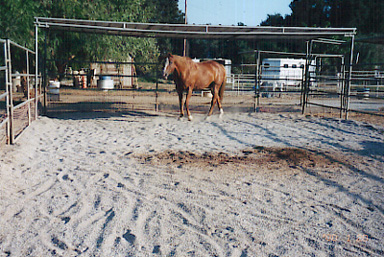 "Drop-Out Perlite Resisting Compaction in a Typical Corral
"Regular" perlite and vermiculite both have been used in animal stalls. They soak up moisture and can be handled far easier than many other products. Of the two, fine perlite probably would be less slippery after its wet---but we have heard anecdotally of people using both products.
If you are using either perlite or vermiculite, we would love to hear from you, and to posting any pictures you have!
If you want to hear more about the use of perlite in horse corrals and for bedding material from someone who has first hand experience, contact Domenic DiNardo at Aztec Perlite Company in Escondido, California at 760-741-1733, or email him at aztecperlite@hotmail.com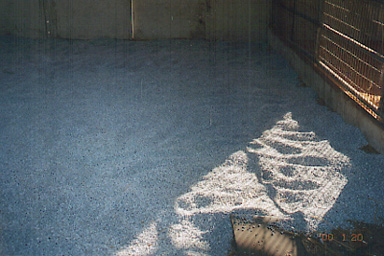 Perlite as Bedding Material in A Horse Stall
If you need any more information or think we can help in any way, please call us or contact us at:
The Schundler Company

150 Whitman Avenue
Edison, New Jersey 08817
732-287-2244 or www.schundler.com
Back to Unusual, Unique, and Unexpected Uses of Perlite and Vermiculite Page